Return to Headlines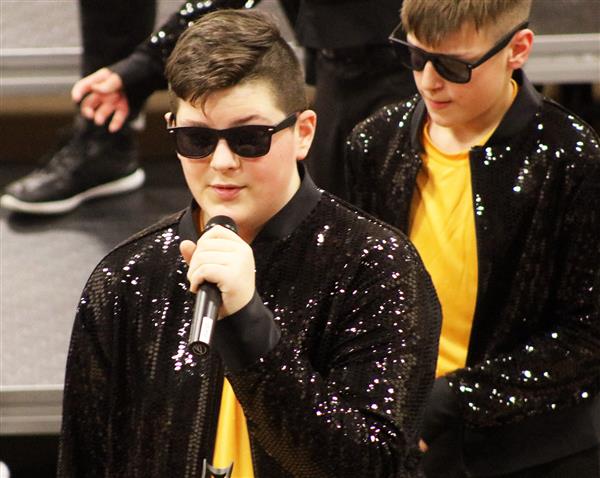 Cole Wendt, shown performing with the junior high schow choir, was selected for New Score as an incoming freshman.
----
Smith-Cotton show choir students auditioned for the 2021-2022 school year on April 24.
Vocal music director Bryce Hesterman said that before the audition, students were given materials to prepare with via Canvas. Students were required to sing "My Country Tis of Thee" and were given another song to sing and dance with. There were also various help sessions in the evenings prior to auditions to help students learn the materials.
Hesterman said that at auditions, he is looking for vocal tone, precision, and evaluating how much they learned in a short amount of time.
"The biggest thing we're looking for is potentiential, not perfection; no one is going to have a perfect audition," said Hesterman.
Eighth grader Cole Wendt made New Score as an incoming freshman.
"I was in disbelief because I didn't think that anyone from eighth grade was going to get picked for New Score," said Wendt. He added that he looks forward to performing with upperclassmen, and that New Score's shows are always fun and exciting.
Another new member of New Score is freshman Ziek Barth-Fagan. As an incoming sophomore, Barth-Fagan was chosen as a dance captain. He said that it is his job to get the dances memorized quickly and help other members if they are struggling.
Junior Cassidy Polley has been participating in show choir since sixth grade. She added that this year, her audition was more stressful than in years past. She said that it felt like more pressure to get into New Score her senior year.
Hesterman added that despite the stress, students stepped up and performed. He said that in music, there is less room for error so it is important to him that students try their best and give it their all.
Polley is looking forward to show choir hopefully getting back to normal.
"I think if we have competitions again, it will pull the team together as a family," she said.
New Score roster for 2021-22
Soprano: Caroline Beard, Karmya Bronson, Jaiden Clark, Rehleigh Curry, Emily Eschbacher, Trinady Klemme, Lily Ream, Aurora Sanchez, Arden Schupp, Lillibeth Sokolowski, Lydia Tester, Emma Williams
Alto: Madelyn Bell, Abigayle Caballero, Chloee Crafton, Abby Dake, Emma Dillon, Marcella Gonzalez, Leia Goodwin, Lucy Mahalovich, Cassidy Polley, Savannah Simon, Jessica Tienda, Claudia Weese
Tenor: Ziek Barth-Fagan, Gareth Herrington, Cole Wendt, Riley Wyatt
Bass: Marcuis Lamar, Nick McKeon, Carter Ray, Dominic Seltzer
Vocal Velocity roster for 2021-22
Soprano: Cesia Argueta, Emili Boston, Anna Burks, Gabby Hughes, Brianna Kosifas, Makaylee Lundgren, Charity McGinnis, Annie Mills, Mollie Miner, Madison Phillips, Maddison Sherwood, Alice Snyder
Alto: Mallory Bates, Madison Bilbruck, Emma Brosch, Makayla Caballero, Scarlett Griffin, Samantha Hagedorn, Jade Hughes, Madison Medlock, Paula Rojas Murillo, Madison Rettke, Bailee Spencer, Allinah Washington, Camden Youngblood
Tenor: Dante Bolds, Ashton Henson, Damian Parker, David Reed
Bass: Gabe Hire, Joshua Hoover, Ephraim Schneider