Return to Headlines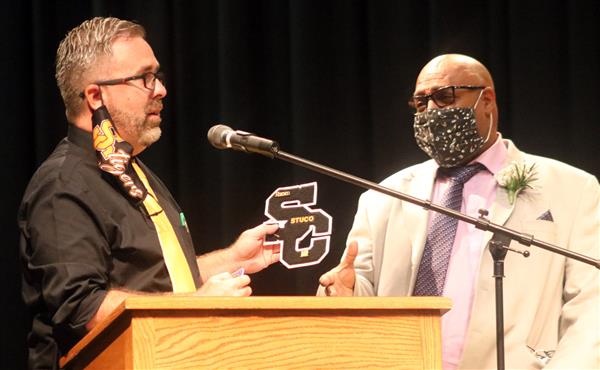 Smith-Cotton High Principal Wade Norton, left, presents Arthur Seabury with a Student Council letter during the Sedalia School District Foundation Distinguished Alumni ceremony.
---
On Oct. 9, Smith-Cotton 1975 graduate Arthur Seabury Jr. was awarded the 2020 Distinguished Alumni honor by the Sedalia School District Foundation.
This award recognizes S-C alums and their accomplishments after graduation. The foundation finds it important to congratulate the success of alumni at S-C and believes any student can achieve this honor with hard work and dedication towards their future and community.
Upon receiving the award, Seabury was overjoyed and extremely grateful for the opportunity. His nominators described Seabury as "a teacher and mentor who is dedicated, iconic, popular with students, generous, caring," as mentioned in a short biography of him. It also said he is someone "who goes above and beyond, is an example to others, and a man of character."
Growing up, Seabury lived in "two different worlds," living on the North side of the tracks in Sedalia and with less luxurious experiences, he said. Like many African Americans at the time, he faced racial discrimination.
He mentioned in his acceptance speech, "We were being taught that you can be whatever you want to be, but we didn't have any black senators, we didn't have any black vice presidents, we didn't have any black congressmen. So I heard that I could be what I wanted to be, but I didn't see the evidence that I could be what I wanted to be."
He had many people who kept pushing him to have hope for his future despite the discrimination and differences society had put in place.
"And me and my inquisitive mind said, 'Well I hear that, so I'm going to strive to do whatever I can to be that,'" he said.
Seabury had a pretty good future planned out by his senior year. He had a desired college, a scholarship, and finally had the lead role in a play his theatre instructor wanted him to have, but Seabury had the floor ripped out from underneath him one day. He was with a friend near a group of people who were trying to break into a car, but didn't know them. When the police arrived, the group had already taken off but he stayed behind, causing officers to falsely charge Seabury as an accessory to a crime.
When he arrived back at school, he was told he couldn't participate in the extracurricular activities he had previously. He lost his scholarship as well.
At the Distinguished Alumni award ceremony, S-C Principal Wade Norton awarded Seabury his Student Council letter, along with renaming him as co-president of the class of 1975. Norton also gave Seabury his patch for drama, and a band for forensics (speech) and drama which were taken from him his senior year after the incident. Norton felt that it was the right thing to do and that Seabury more than deserved it. This brought out an emotional response from Seabury.
"I was unable to contain my emotions when he said we are returning your privileges," said Seabury.
After graduating from S-C, Seabury earned a master's degree in Social Welfare from the University of Kansas School of Social Welfare and his Bachelor of Science degree is Psychology from The University of Central Missouri, which at the time was known as Central Missouri State University.
Today, he is the school social worker at Hogan Prep Middle School in Kansas City, where he supports students and families with anything they may need. Personally knowing some of the struggles kids go through, he is more than happy to lend a helping hand.
Closing his speech he noted, "I ask you to look at your hearts and look at your history and look at what you know in your heart has to change. Don't listen to people who are trying to whitewash and say it's OK. You're intelligent people and you're our future."