Return to Headlines
Senior Profile: Natalie Adermann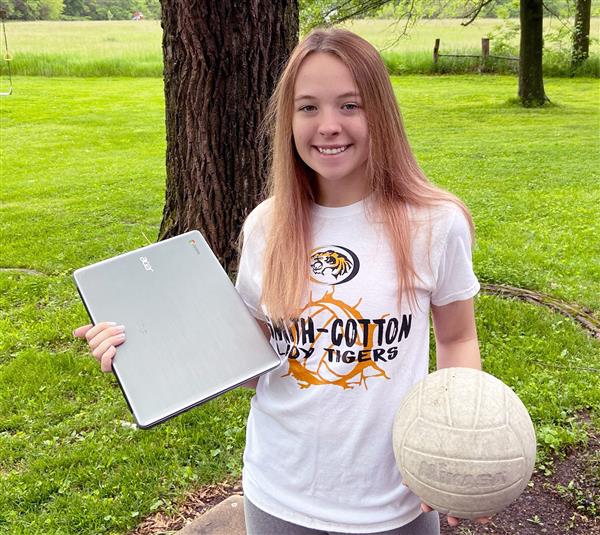 S-C senior Natalie Adermann was a volleyball starter and was a top reporter for the Tiger Times student newspaper
---
For some, entering the doors of Smith-Cotton High School for the first time can be exciting; for senior Natalie Adermann, it was terrifying.
Out of her comfort zone and at a new school, Adermann wasn't sure what the next four years would hold, but looking back at that very first time she walked through those doors, she smiles at all of the memories she has made since then.
Before coming to S-C, Adermann attended St Paul's Lutheran School. Since the school only taught kindergarten through eighth grade, she knew she was going to have to transfer to a different school starting her freshman year, but wasn't excited about being the "new kid." Adermann was very nervous about simple things like making new friends, getting involved, and of course getting lost in school more than twice as big as her previous one. Upon starting school after summer break, she was surprised at how welcoming S-C was.
"Everyone welcomed me with open arms and made me feel right at home," said Adermann.
Her freshman year, Adermann tried to get involved, joining the volleyball team, band, the Smith-Cotton Foreign Language club and Intro to Journalism. Throughout the rest of her high school career she also joined Link Crew, National Honor Society, the Tiger Times, HOSA, and has even been a baseball manager. She also was a seasonal leader at the Community Cafe for NHS. These groups definitely helped Adermann become more comfortable at S-C, as well as pushing her to become more social. She has gained so many connections and has benefited from every opportunity they have given her.
Tiger Times advisor Bob Satnan has been able to watch Adermann grow throughout the last four years. Adermann won the Rookie Reporter of the Year award both her sophomore and junior year, always going above and beyond while reporting for the Tiger Times and having stories published in the Sedalia Democrat.
"Natalie has been a leader among the Tiger Times team from her sophomore year. Her work has set a high bar for the rest of the reporting team, which has helped elevate their stories. The Smith-Cotton community has been fortunate to have Natalie help tell its stories over the past four years" Satnan said.
Tiger Times co-advisor Jonathan Tester seconds Satnan's statement. The first time Tester met Adermann her freshman year, he could've sworn she was at least a junior because of the level of professionalism she had while interviewing him. Since that first interaction, she has more than exceeded his expectations and has continued to learn, grow, and develop as not only a student but also a person. Tester admires her positive energy, high character, and strong sense of integrity.
"Adermann has always been consistent; day in and day out, she always brings the best," said Tester.
Throughout her involvement in the Tiger Times, she has taught Tester that students are capable of anything they put their minds to. He has no doubts that she will be successful beyond the walls of S-C.
Adermann is very thankful for her involvement in Tiger Times and is grateful for everything both advisors have done for her. From motivating her to pushing her to work harder to even being there for her outside of the classroom, she has learned many valuable lessons from them both.
Since her first time entering S-C, Adermann is no longer scared to try new things. She has become much more outgoing and is excited for her future. In the fall, she will be attending the University of Missouri-Kansas City to major in pre-pharmacy. She then hopes to get into pharmacy school. While she is nervous to move away from home, she is confident that she will make new friends just like she did her freshman year at S-C.
Looking back, Adermann wishes she could tell her freshman self to not be afraid to get out of her comfort zone. She also shares the same advice for the underclassmen, urging them to get involved and have fun, but also take school seriously. Her biggest piece of advice would have to be making true friends.
"I wouldn't be where I am today without the friend group I have today. They have gotten me through everything" said Adermann in reference to her group of friends that includes Alexis Spencer, Caleb Egbert, Jeffrey Goodson, Steven Edgar, Mark Villalobos, and Jessi Sparks.
She is excited to keep moving forward and making memories with her current friends, as well as the many more she will make at college.
Although it is bittersweet to leave such a life-changing period behind, Adermann knows she will continue to grow after graduation. Putting herself out of her comfort zone once again, she is ready to walk across the stage and walk onto a new campus to continue her education. Only this time, Adermann is ready to embrace the change.