Curry promoted to assistant superintendent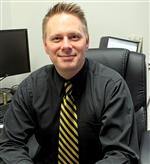 Jason Curry, currently principal at Smith-Cotton Junior High, will be promoted to assistant superintendent for Sedalia School District 200 at the end of the 2019-20 school year. The move was approved by the district's Board of Education in the closed session of the Feb. 24 board meeting.
Curry, a 1995 graduate of Smith-Cotton High School, holds an associate's degree from State Fair Community College (1997) and a bachelor's degree in physical science from the University of Central Missouri (2001). He earned a master's degree in administration in 2008 from William Woods University and his education specialist degree in administration in 2013, also from William Woods.
He joined the Sedalia 200 district as a health and physical education teacher at S-C High in January 2002. He became an assistant principal at Smith-Cotton Junior High in 2009 and was promoted to junior high principal in 2013. He also served as the Smith-Cotton boys soccer head coach from 2002-2009.