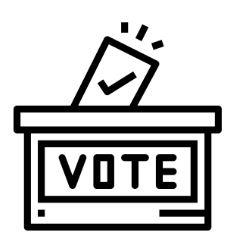 Phone:
Email:
Degrees and Certifications:
Proposition K.I.D.S.

Q: Will my taxes increase if Proposition K.I.D.S. passes?

A: This is a no-tax rate increase measure. This measure does not add additional money to the current tax rate ceiling. Should Proposition K.I.D.S. be approved, the current operating levies would be combined into one operating levy.

CLICK HERE to learn more about Proposition K.I.D.S., which will be on the April 4, 2023, ballot.
Mission & Commitment
Our Mission is to provide a challenging education in a safe environment for all students so they will become productive, responsible, and successful members of our diverse society.

Our commitment to maximize learning and achievement for all students is accomplished by providing high-quality staff members and exemplary educational experiences for our students.
Announcements
A reminder that Parent-Teacher conferences are this week. If you haven't received information on this, please contact your child's school. Here is the school day schedule for the rest of this week:
Wednesday, March 15: Regular release times
Thursday, March 16: 2-hour early out schedule
Friday, March 17: No classes for students
Also, the district is on Spring Break from March 20-24, with students returning at regular start times Monday, March 27.
---
Un recordatorio de que las conferencias de padres y maestros son esta semana. Si no ha recibido información sobre esto, comuníquese con la escuela de su hijo/a. Aquí está el horario de la jornada escolar para el resto de esta semana:
Miércoles 15 de marzo: Horarios normales de salida
Jueves 16 de marzo: Horario de salida temprana de 2 horas
Viernes 17 de marzo: No hay clases para estudiantes
Además, el distrito estará de vacaciones de primavera del 20 al 24 de marzo, y los estudiantes regresarán a las horas regulares de inicio el lunes 27 de marzo.
---
Напоминаем, что родительские собрания проходят на этой неделе. Если вы не получили информацию об этом, пожалуйста, свяжитесь со школой вашего ребенка. Вот расписание школьного дня на оставшуюся часть этой недели:
Среда, 15 марта: обычное время выпуска
Четверг, 16 марта: выход на 2 часа раньше
Пятница, 17 марта: занятия для студентов не проводятся
Кроме того, с 20 по 24 марта в округе проходят весенние каникулы, и учащиеся возвращаются в обычное время начала занятий в понедельник, 27 марта.
---
Нагадуємо, що батьківські збори відбуваються цього тижня. Якщо ви не отримали інформацію про це, будь ласка, зв'яжіться зі школою вашої дитини. Ось розклад шкільного дня на частину цього тижня, що залишилася:
Середа, 15 березня: звичайний час випуску
Четвер, 16 березня: вихід на 2 години раніше
П'ятниця, 17 березня: заняття для студентів не проводяться
Крім того, з 20 по 24 березня в окрузі відбуваються весняні канікули, і учні повертаються у звичайний час початку занять у понеділок, 27 березня.

An adult 18 or older needs to transport any medication to and from school, including over-the-counter medication and inhalers. The only exception is at Smith-Cotton Junior High, Smith-Cotton High and Whittier High, if the appropriate paperwork is on file. Please call your school nurse or the district health coordinator if you have questions regarding this policy. To review the district Medications and Exemptions Policy, go to https://www.sedalia200.org/domain/41

The Sedalia School District 200 calendar for the 2023-24 school year is available for downloading: https://www.sedalia200.org/cms/lib/MO01910139/Centricity/Domain/4/Calendar%2023-24%20Board%20Approved.pdf
Tip Line - If you have an emergency please call 911. This site is not monitored 24/7.
MOCAP Online Learning
The Missouri Course Access and Virtual School Program (MOCAP) has developed a catalog of virtual online courses for students. Students will be able to take an entire course from any Internet-connected computer, available 24 hours a day, seven days a week. Additional information may be found at https://mocap.mo.gov/.

To download required documents, click on the links below:
ADA Compliance
For questions about ADA Compliance for this website please contact Dr. Todd Fraley at 660-829-6450 or

fraleyt@sedalia200.org