Return to Headlines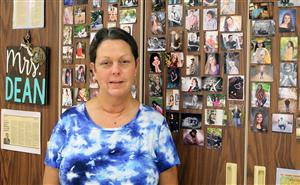 Susan Dean displays senior photos she has received from her students on a cabinet in her classroom.
---
Susan Dean has been teaching for as long as she can remember and even jokes that it has been "since dirt has been around."
Dean, an English teacher at Smith-Cotton High, has always loved to read and decided to major in English at Central Missouri State University, now known as the University of Central Missouri. She quickly realized that she wanted to work with teenagers and decided to combine both her love for reading and helping others. Teaching seemed to be her best bet and was naturally a good fit for Dean.
She received her bachelor's degree from CMSU and her master's from William Woods University. Dean started her teaching career in 1984 at Northwest High School and then shifted to S-C in 1995.
Since coming to S-C, Dean has never had a dull moment. She instantly learned to love where she worked and the people who surrounded her. Both students and co-workers constantly brighten her day.
"I have been incredibly fortunate to have had the privilege of teaching and sharing in the lives of so many students. I have also been blessed with amazing and supportive co-workers, from teachers to staff members to administrators. That really does make a huge difference," Dean said.
In the classroom, Dean likes to keep things very organized and structured. She likes to keep a routine so students are able to walk in and know what to do. If there is ever any confusion or if a student needs help, Dean makes it a goal to be there and help to the best of her abilities. She wants every single one of her students to be successful and if that means putting in extra hours or sitting down with a student to help, Dean is willing to put in that extra bit of dedication.
Sophomore English Teacher Mary Flandemeyer was lucky enough to be one of Dean's student teachers and is now considered to be one of her best friends. Flandemeyer has learned so many valuable things from Dean and is extremely grateful for everything she has done for her. While student teaching, Flandemeyer learned almost everything she needed to know when it came to teaching and multiple other good tips. Dean taught her how to manage her classroom, create efficient lesson plans, keep an updated grade book, communicate with parents, and how to become a part of a great group of English teachers. Library Media Specialist Lorin Blackburn Theirfelder and Freshman English Teacher Tracy Johnson were both able to student teach for Dean as well.
"She is my best friend. My work spouse. We talk about everything," Flandermeyer said. "I wouldn't want to ever be without her in my life. I love her. Within the last 21 years I have known her I would say the most important thing she has given me is the example she has set to bring my best every day and treat all students equally."
Senior Kayla Holloman, believes Dean is an amazing teacher and very easy to get along with. She admires that Dean is always in a good and positive mood whenever she walks into class; that really motivated Holloman and makes her feel welcomed. Dean also teaches things in a step-by-step method, which is very important to Holloman. When things get tough or when Holloman falls behind, Dean always knows when to take time to help and explain things.
"She really knows how to engage with the class and it is clear she wants us to succeed," said Holloman.
In her teaching career, Dean hasn't had many struggles but one thing that she has definitely had to get used to is technology within the classroom. Although she doesn't consider herself tech-savvy, she knows that she can go to almost anyone for help. She really appreciates everyone's patience and kindness when it comes to needing help. Without them, Dean doesn't know how she would learn about all the "bells and whistles" technology has.
Her favorite teaching moments definitely make up for her struggle with technology. Some of her favorite things about teaching have included having students show her their ACT results when they have raised their scores, being selected an honorary member of National Honor Society twice, being invited three times for Teacher Appreciation Day at the Missouri Scholars Academy, and having former students come back to let her know of about all of their accomplishments.
In Dean's free-time, she can be found walking the Katy Trail. She walks about four to six miles depending on how much time she has. She also loves reading, watching cooking shows (especially "The Pioneer Woman"), and cooking. One of her favorite things to do is to spend time with her husband of 35 years, Richard, and their four fur babies.
Looking back on her career, if Dean could give herself any advice on her first day of teaching she would tell herself to be more flexible. Along with trying to see things from other points of view, advising herself to remember that every student has a different reality and to try not to assume that everyone grew up like she did.
Since then, she has definitely taken a different view on things and has realized the importance of understanding the difference each student has.
Dean doesn't have any big plans for the near future; she is content where she is at now and hopes to continue her teaching career at Smith-Cotton for as long as she can. S-C is her second home and all of the lives she touches every day are a part of her second family.
"I truly love what I do, and I think I have the coolest job ever," Dean said.