Return to Headlines
Satnan helps tell S-C, Sedalia 200 story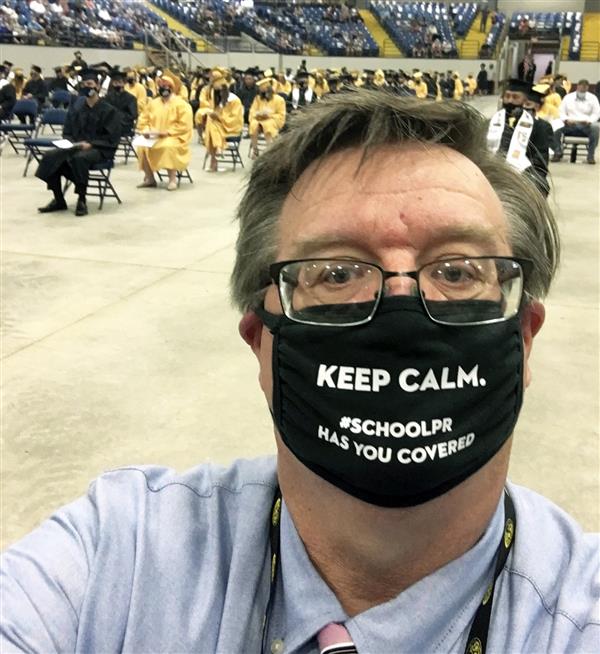 Sedalia 200 Communications Director Bob Satnan is shown at the Class of 2020 Commencement ceremony.
----
Bob Satnan, the communications director for Sedalia School District 200, recently was honored as the Missouri School Public Relations Association's Professional of the Year for 2021. It is the highest award that MOSPRA gives out.
"It was overwhelming to have my name mentioned with previous award winners whose work I look to on a daily basis," said Satnan.
He has been the communications director for Sedalia School District 200 since 2013. He has also taught personal finance, Intro to Journalism, and Smith-Cotton Media. However as his job at Central Office as the communications director has become more demanding, he has slowly had to step away from the classroom, with this being his final year teaching.
Satnan's job entails informing families as to what is going on in the district's classrooms along with promoting different events. Satnan makes the community aware of the creativity both staff and students possess. He is the one who sends out notifications regarding weather cancellations, or reminders for events.
On top of that, Satnan also helps produce the Tiger Times and writes a weekly column for the Sedalia Democrat.
Superintendent Steve Triplett has worked alongside Satnan for the last eight years.
"Mr. Satnan is one of those guys that makes everyone around him better at what they do," said Triplett. "His work ethic is second to none."
S-C Principal Wade Norton describes Satnan as a walking thesaurus.
"He comes off as a very intelligent man that has a lot of knowledge to share with people," said Norton. He explained that when Satnan entered this community he knew the importance of education. When Satnan joined the district as the communications director, he was able to give the district more press both internally and externally.
During his time in the classroom, he has given students the opportunity to tell the stories of S-C with Tiger Times. Satnan has enjoyed the opportunity see students realize and reach their full potential.
"He brought journalism back to life at Smith-Cotton," said Norton.
He explained that Satnan was able to slowly bring the Tiger Times back from a small student publication to a now full blown student-led newspaper. Satnan truly prepares students for the real world.
"He doesn't take the slack," said Norton. "I know the students that are involved with Tiger Times are going to be ready for their jobs, whether that be in journalism or out of journalism."
Journalism co-teacher Jonathan Tester explains his experience of teaching alongside Satnan as invaluable. He has had the opportunity to learn and gain a background in journalism from Satnan.
"It has been so enjoyable to see Satnan working with the Tiger Times staff and how he has developed lifelong relationships with those students," said Tester.
Satnan puts in work behind the scenes that not many people are aware of to make sure Tiger Times tells compelling stories.
Regardless of the platform, Satnan is constantly telling the stories that are occuring within the district.
"Everything Mr. Satnan does behind the scenes is geared towards telling the stories of our students," said Triplett. "I hope our student body understands and appreciates the hours and hours of work that Mr. Satnan puts into sharing those successes."