Student Media
Page Navigation
Return to Headlines
Senior Profile: Joe Rodriguez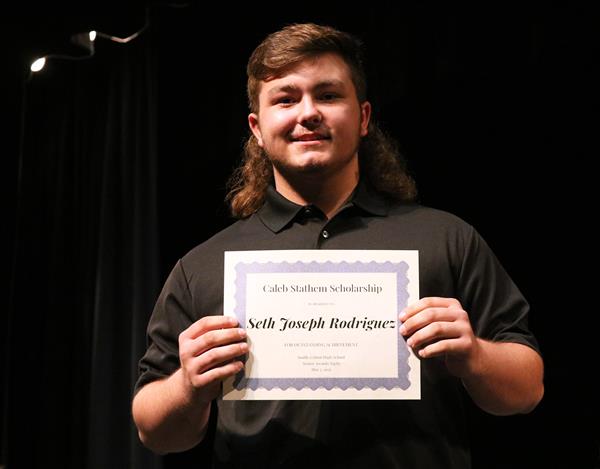 As a Tigers football player, Joe Rodriguez simply wanted to play.
"Every time we would ask if someone wanted to do this or can they do this, he would be the first one," said Offensive Line Coach Tim Barnes. Rodriguez's willingness to play and be out on the field was the biggest reason Rodriguez played center.
Through football, Rodriguez battled knee injuries but he didn't let them put a damper on his senior season. During the Jefferson City game this year, there was a cut block and it resulted in an injury for Rodriguez. He rehabbed the knee as much as he could and when both Rodriguez and athletic trainer Jake Bellen were comfortable, Rodriguez got back on the field.
Rodriguez said that while the team may have not won too many games, he still enjoyed his time in their program.
"It was a good brotherhood," said Rodriguez, adding that he will miss the family aspect of the team. "There's 11 players on the field and everyone of them has your back."
He gained the nickname Brucie based on the character from the movie "The Longest Yard." During his freshman and sophomore years, Rodriguez tried to play as much scout team as he could regardless of the position, similar to the character. That is easily the best memory he has created at Smith-Cotton. Rodriguez was awarded the football program's 2020-21 Caleb Stathem Memorial Scholarship.
Barnes got to know Rodriguez over the past three years and called him an outgoing kid.
"He worked hard; he made it important to get better," said Barnes, who enjoyed getting to watch Rodriguez grow both as a player and a person. He also said being a mentor for Rodrigues was an easy task.
"Someone who strives to be better, it's real easy to try to take them under, and help them the best you can," said Barnes.
Rodriguez participated in the welding program at State Fair Community College though its Career & Technology Center.. He describes it as an eye-opening experience. While the quarantine last spring put a damper on the first-year students, this year they have had an opportunity to come back and work on a handful of projects.
In the fall, Rodriguez has plans to attend State Technical College of Missouri in Linn. He decided to go there because he had heard good things about the programs that they offer. Rodriguez is going to become a utilities systems technician. He originally planned to attend their lineman program but missed the deadline. This was his next choice, Rodriguez will be taking many of the same classes that are required in the lineman program. If he decides to switch in the future he'll have the option to.