Return to Headlines
Senior Profile: Lowell Pilliard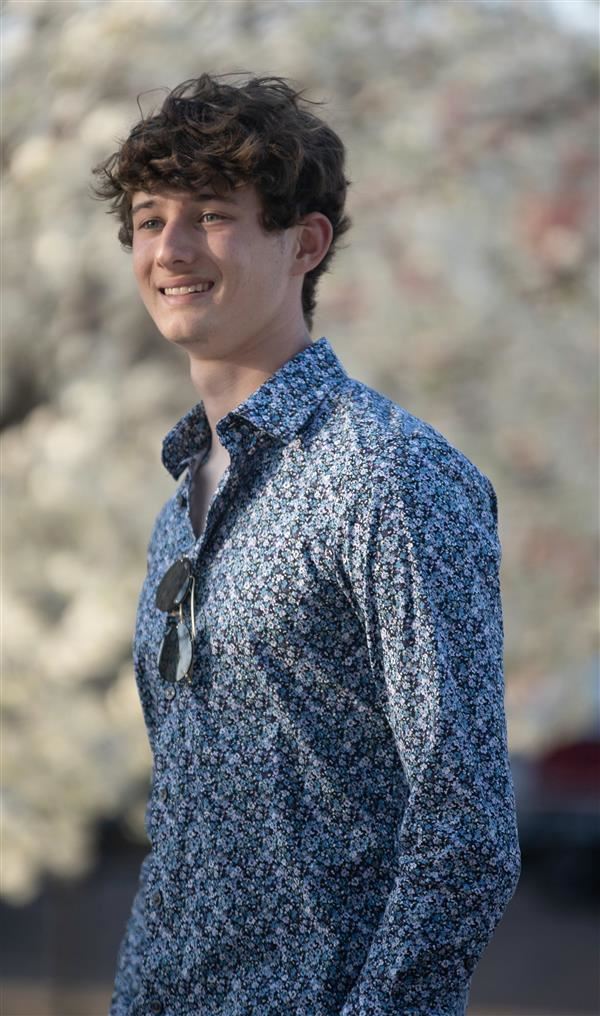 S-C senior Lowell Pilliard used a timer to take this senior photo of himself.
---
Lowell Pilliard has had a successful career at Smith-Cotton High School, racking up awards for his photography, setting records in boys swimming,
and biking all over the country with his grandfather.
Lowell is an avid photographer outside of school. He earned the highest available award at the Missouri State Fair Jr. 50 Art Contest for three consecutive years and twice was featured in an exhibition at Drexel University in Philadelphia.
Team SCREAM Head Coach Michael Wright has known Lowell for four years and said that Lowell always brightens the room whenever he enters.
"His impact was not just on me but everyone around him, because he always brings a positive attitude and always makes you smile when you are having a down day," Wright said.
Wright said that Lowell is a very big part of the Team SCREAM culture and is always willing to help out and push his teammates.
"When I met him his freshman year, he was just a fun and goofy kid that everyone enjoyed having around," Wright said. "As he has matured though, he has stayed that same fun and goofy kid, but has developed more as a role model and leader quality as well."
Lowell also loves to go touring on his bike with his grandfather, Dan Pilliard. He has done multiple long distance, multiple day tours including a seven-day, 250-mile ride along the Katy Trail in 2017. Lowell says that the reason he loves to bike so much is because of the clarity that it brings.
"Bike touring is something that my grandpa Dan got me into. He has toured all over the world and has spent collectively over a year touring in every continent except for Antarctica," Lowell said. "The thing that I love about touring is that there is nothing to worry about. You do not think about or worry about anything except for your next destination. For me, touring is almost a meditation; you leave your busy life behind for a week and just live off your bike."
Lowell has had an impact on the Smith-Cotton boys swimming program, Head Coach Michelle Steger said.
"Lowell is full of energy and enthusiasm; he was a very fun person to have on the team and will definitely be missed by all," she said.
Aside from bringing positivity and hard work to the team, Lowell also shares a S-C record in the 200-yard medley relay with his teammates Levi Barth-Fagan, Hunter Scholl, and Lowell's brother, Clay Pilliard.
Clay, a sophomore, said it has been a great experience to be in the same high school as his brother for the past two years.
"He helped me learn my way around the school, and told me what to expect as I go through the rest of high school by myself. I really appreciate him for that," Clay said.
Lowell says after graduation, he is going to the University of Central Missouri to study business.
"Whether it's photography or business or whatever he decides to do, he is going to be successful no matter what," Clay said.