Student Media
Page Navigation
Return to Headlines
Senior Profile: Madeline Allen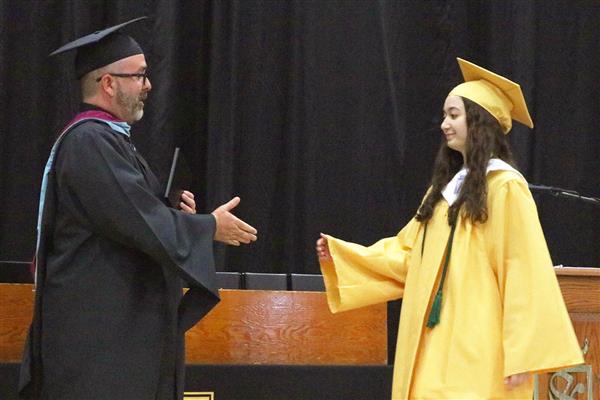 Smith-Cotton senior Madeline Allen has had her fair share of ups and downs in her high school career, and she overcame one of those obstacles by leaps and bounds.
Madeline is involved in the S-C Symphony Orchestra, math team, National Honor Society, and previously was involved in girls tennis. Outside of school, Madeline spends her time with the Sedalia Symphony. She has been very successful in symphony, receiving high ratings at district competitions. Madeline received a gold rating on her solos at district her sophomore and senior year. Unfortunately, she did not participate in districts her junior year due to COVID cancellations.
Although Madeline has been successful in her activities, she was hit with a large obstacle the summer before her sophomore year.
That summer, right before school started, Madeline had surgery to remove a tumor on her spinal canal. Doctors told her the longer she waited to have the surgery done, the less likely she would be able to walk. Madeline said that following the surgery, it took her about a week before she could move on her own.
Madeline's mother, Romaine Allen, said that Madeline first started complaining about leg pains during Christmas 2017. Romaine said that a local pediatrician had at first diagnosed Madeline with typical growing pains, but the pain persisted. X-rays revealed nothing, and the Allens waited for appointments at Children's Mercy Hospital. Madeline started eight weeks of physical therapy, but no one knew the cause of her pain. Romaine said that the process of going through all sorts of doctors and practices was one of the most frustrating things she has experienced.
"We were not willing to be put on more waiting lists, so we prayed and asked God to guide us," said Romaine.
During August 2018, Madeline was scheduled for an appointment in Columbia at the Women and Children's Hospital. An MRI was scheduled for her two weeks later, and the following week Madeline was rushed into a seven-hour emergency surgery at the same hospital. Her surgery was the first day of school starting her sophomore year.
Romaine said that Madeline's neurological surgeon explained that her surgery was to remove a tumor the size of an egg on her spinal canal. The doctor added that if the Allens had waited any longer, the tumor could have been fatal or caused Madeline to be paralyzed.
Romaine said that through the whole experience, she felt very frustrated and helpless. She also felt scared because the surgery was so sudden and could have been dangerous for Madeline. Luckily, the tumor was found to be benign after the surgery.
The recovery process following the surgery was a hard one. Romaine said that as a mother, it was incredibly hard to watch. She said that Madeline was in intensive care for a week, lying flat on her back and not being able to move. Madeline was then moved to a normal hospital room for three weeks. Romaine said that Madeline was required to gradually raise her bed to a sitting position and then eventually had to receive help getting out of it.
"These activities caused severe spinal fluid headaches and nausea … I stayed in the hospital with her the enture time and shared her room," said Romaine.
Because of her surgery, Madeline and her family decided it would be best for her to continue to recover at home while doing home school. Romaine said that the healing process just seemed too intensive, considering Madeline had one vertebrae bone permanently removed and the incision site was very delicate. However, Madeline said that after four days, she wanted to try to come back to normal school at S-C.
The Allen family had discussions with senior counselor Pam Crafton, S-C nurse Michelle Muths, and Principal Wade Norton about accommodations that could be made for Madeline. Necessary adjustments were made so that Madeline could return to school at S-C.
Madeline said that since her recovery, she has noticed it is harder to walk for long periods of time, as well as run. She has also stopped playing tennis because of the pain. Madeline said that if she didn't have the tumor, she would have loved to continue with tennis and try swim and dive in the winter.
Although she hasn't gotten to accomplish all that she hoped in high school, Madeline has big plans for college. She intends to attend Missouri S&T to study computer science.
"My favorite subject has always been math and I want to be able to do something with that," said Madeline.
Senior Maria Hernandez said that since Madeline's surgery, she has seen Madeline come out of her shell and become more adventurous.
"She's more comfortable around new people and she's not afraid to put her foot down when something's not going her way," said Hernandez.
Romaine is overall thankful that Madeline's surgery turned out successful, because the outcome could've been very different. Romaine describes Madeline as an example of strength and determination to others who have been going through difficult times.
Hernandez hopes that Madeline will become even more successful in college, and adjust to her new responsibilities.
"I'm so proud of the little lady she's becoming and I'm so grateful to call her one of my best friends," said Hernandez.