Return to Headlines
Senior Profile: Matt Thompson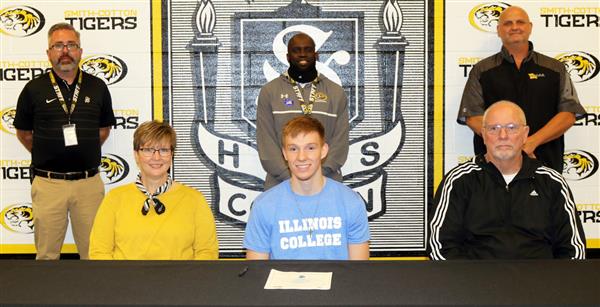 S-C senior basketball player Matt Thompson accepted a scholarship to play at Illinois College.
---
Senior Matt Thompson moved to Sedalia from Smithton the summer between his eighth grade and freshman year. He said the move "helped develop me as a person. I had never really understood what adversity was 'til I came here."
Thompson has played basketball since the age of 5. Growing up, he would always have neighborhood friends at his house playing. He admits that growing up he was better at baseball and he just decided it wasn't for him.
Not only was the move a change in schools, it was a change from a 2A school in basketball to a 6A school. Kevin Thomas, then the S-C boys basketball head coach, put Thompson on varsity as a freshman. Thompson said that in his first varsity game he guarded Dajuan Harris, who is now starting at the University of Kansas.
"It was kind of eye-opening, I needed to get a lot better and work on stuff," said Thompson, who plans to continue both his academic and athletic career at Illinois College in the fall.
There were a handful of Division 2 schools and junior colleges in Missouri that had reached out to him, but many of them were vague about what they were looking for. The COVID-19 pandemic resulted in players having an extra year of eligibility, which made it hard for schools to tell Thompson what they specifically needed. So, he reached out to more schools out of state. Thompson then found the Illinois College coach on Twitter, followed him and received a follow back. Thompson reached out to Coach Steve Schweer via email, and the next morning the coach responded, inviting Thompson on a visit.
Illinois College is a Division 3 school located in Jacksonville, Ill.
"I wanted to go somewhere where I could develop as a person and play and be actively involved," said Thompson. Had he gone to a bigger school, he would've had to wait his turn to take the court. He felt that he could make more of an immediate impact at a D3 school.
With the unknowns due to COVID, Thompson described the news of being able to play at the next level as a "sigh of relief," as playing college basketball had been his goals since his freshman year.
Thomas called Thompson a very dedicated player.
"For the three years I coached him, he was always looking for ways to improve as a player," Thomas said.
Thomas and Thompson developed a close relationship over the time they worked together.
"He reminds me a lot of myself when I was in high school," said Thomas. "I was very focused on basketball and that took up most of my free time. When I decided to leave S-C, it was difficult knowing I wouldn't get to coach him during his senior year."
Thompson has enjoyed playing for the coaches at S-C, as he feels that they are extremely involved and want to see their players improve. He believes new head coach Michael Franklin is helping improve the program.
"He's trying to get us to where we need to be," said Thompson.
Franklin feels that he has been a mentor for Thompson.
"I provide guidance and support for Matt in hopes that it helps him develop his personal and professional skills as he transitions into young adulthood," Franklin said.
While he feels that this year has been a blur, Thompson, who was on the basketball and track teams all four years at S-C, said that the first three years of his high school experience were the most fun he has ever had. He misses having past teammates around because of the relationships that they shared.
Thompson is looking forward to what the future holds and having a new start.
"I don't think Sedalia is a bad place, but I think for someone to develop as a person they need to have experiences outside of their hometown," he said.
One of the biggest changes Thompson has seen in himself is his maturity level. He credits his teachers for helping him realize that if you want to be respected, the first step is being mature.
As an athlete, Thompson was thankful for how direct Thomas was with him his freshman year. It helped Thompson realize he wanted to put in the hard work to be successful.
"Throughout my time here, I've really learned what hard work is," said Thompson.