Rep. Hartzler visits with S-C investing club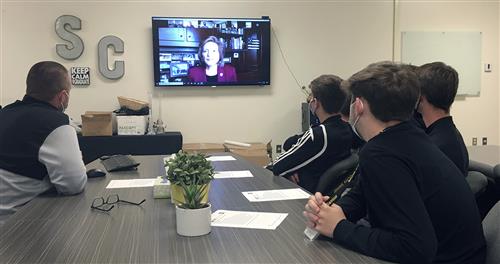 Members of Smith-Cotton High School's Saving & Investing Club shared a Zoom video conference on Tuesday, May 4, with Rep. Vicky Hartzler and banking industry officials. The session was coordinated as part of the online Stock Market Game and the Capitol Hill Challenge, both underwritten by the SIFMA Foundation, which provides financial education and awareness programs.
The Stock Market Game introduces students to the world of investing and personal financial management. The Capitol Hill Challenge aims to deepen students' engagement with civics and awareness of governments' roles in local, national and global economies.
Hartzler, R-Mo., praised the students for their efforts to expand their financial literacy; she also encouraged them to begin building their savings now and warned them of the dangers of reliance on credit cards. She said the federal government currently is spending more than it is taking in, so she plans to push back against expanded spending bills.
S-C senior Andrew Matz told Hartzler that the lessons about risk management made the greatest impact on him. "After a while, you learn not to mess with crazy stocks," he said, citing GameStop and the cryptocurrency Dogecoin.
S-C Business teacher Seth Brunkhorst, advisor for the Saving & Investing Club, said the students were excited to learn about investing and to compete with one another.
"It was an incredible experience for them," he told Hartzler, who closed the conversation by expressing her excitement to return to Sedalia in August for the Missouri State Fair.
Brunkhorst was grateful his students were able to interact with their Congressional representative.
"Today was a great example of what you can accomplish by taking the time to learn a skill, work hard, and apply it in your daily life," he said. "I believe speaking with Congresswoman Hartzler today motivated them to keep building on what they have learned this year, and soon utilize these skills in their lives after high school."